General 2215 Quantitative Real-Time PCR System
General 2215 Quantitative Real-Time PCR System
---
General 2215 Quantitative Real-Time PCR System uses a two-standard hydrolytic probe fluorescence detection method to measure the nucleic acid signal of DNA or retro-RNA and convert it into a comparable quantitative reading.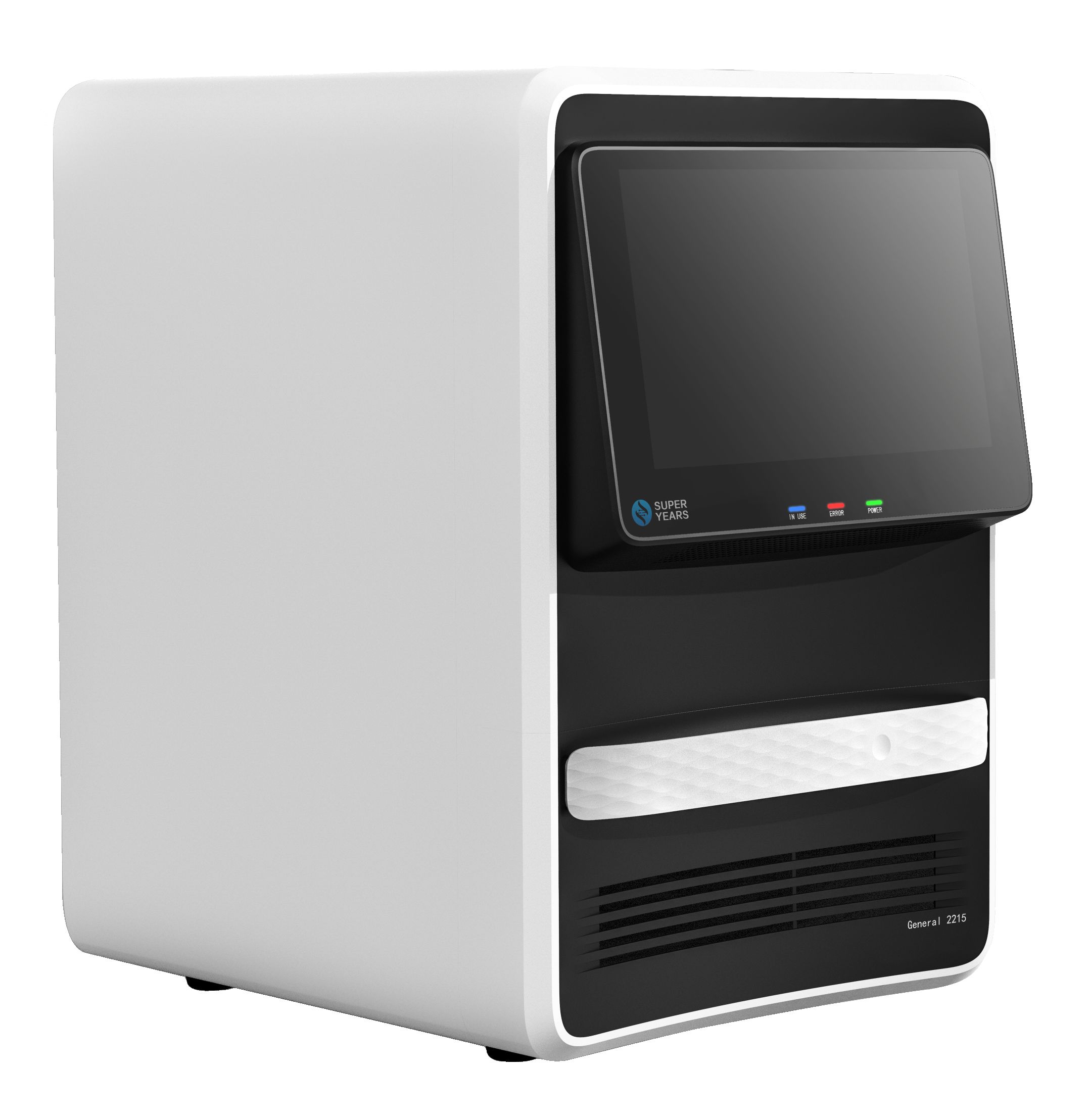 ---
Application Scope
Absolute quantification

Relative quantification/Gene expression analysis

Allelic discrimination

Negative/Positive test

High Resolution Melting (HRM) analysis
---
Product Features
Good Appearance
Integrated industrial design + 12.1 inch IPS screen supporting capacitive touch control.
Convenient and practical
Built-in Windows 10 operating system and USB ports, no external computer required.
Fast Temperature Change
High-speed thermal cycling ensures fast temperature change, allowing for obtaining high-quality results within 40min.
Optical Path
Newly designed optical path and CMOS image sensor with ultra-high sensitivity.
High Flexibility
Support flexible selection of 5-color dyes for various applications.
High Result Credibility
The results feature high sensitivity and reproducibility.
Strong Compatibility
Fully open platform supports all kinds of mainstream reagents on the market.
Highly Customizable Software
Customizable analysis software offers users good using experience and great possibility in application scope.
---
Specification
| | |
| --- | --- |
| Size | 400mm (W) × 500mm (L) × 585mm (H) |
| Weight | 35.6kg |
| Flux | 96 channels supporting 96-well plate and 8-tube strip |
| Optical Element | Halogen lamp, CMOS image sensor, 5 sets of excitation filters, and 5 sets of emission filters |
| Fluorescent Dye | SYBR Green I, ROX, NED, TAMRA, JOE, Texas Red, Cy5, VIC, FAM, Cy3 |
| Reaction Volume | 10-30μL |
| Running Time | 40min |
| Temperature Range | 4-100 ℃ |
| Maximum Temperature Change Rate | 5.5 ℃/sec |
| Temperature Control Accuracy | ±0.25 ℃ (full measuring range) |
| Temperature Uniformity | ±0.5 ℃ (full measuring range) |
| Inspection Scope | 9 orders of magnitude |
| Sensitivity | Single-copy gene is detectable |
---
Recommended Reagent
| | |
| --- | --- |
| Reagent Name | Test Content |
| SARS-CoV-2 (COVID-19) Nucleic Acid Detection Kit (Fluorescent RT-PCR) | Detection of the ORF1ab, N and E genes of SARS-CoV-2. |
| CYP2C19 Gene Detection Kit (PCR Fluorescent Probe) | Detection of the polymorphism of CYP2C19*2, CYP2C19*3 and CYP2C19*17. |
| CYP2C9 and VKORC1 Gene Detection Kit (PCR Fluorescent Probe) | Qualitative detection of the polymorphism of CYP2C9*3 locus of CYP2C9 gene, and VKORC11369G>A locus of VKORC1 gene in whole blood samples. |
| Folic Acid Metabolism Gene Detection Kit | Detection of the polymorphism of MTHFR and MTRR genes. |
| Trace Element Metabolism Gene Detection Kit | Detection of genes related to metabolism of trace elements such as vitamin D, calcium and selenium. |
| Disease Susceptibility Gene Detection Kit | Melting curve analysis and detection of SNP loci of genes related to common chronic disease and tumor susceptibility. |
---
Please feel free to contact us via info@weiyunbio.com