SuperTest 1000 Dry Immunofluorescence Analyzer
SuperTest 1000

Dry Immunofluorescence Analyzer
Small bulk, convenient operation, installationand maintenance, high sensitivity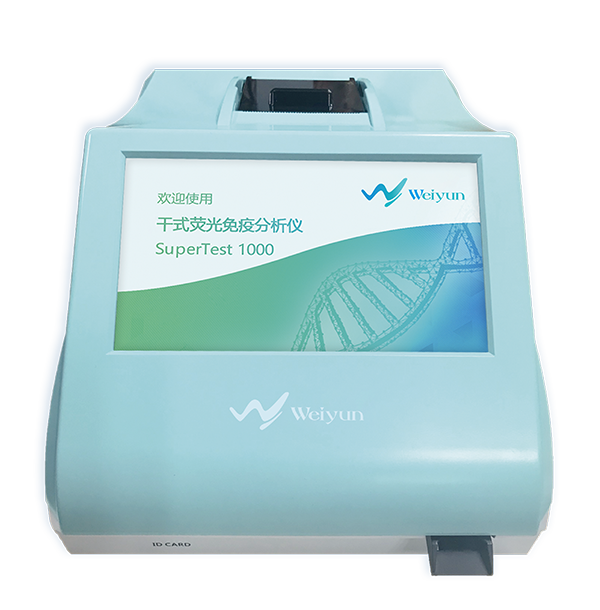 ---
◆ Fast detection for biological samples suchashair, blood, sweat, blood stain, urine,saliva, etc.of suspected drug users.
◆Detection of unique personnel, namelyemployees in high-risk positions, employeesin entertainment places, public officials andto-be-enlisted personnel.
◆Fast quantitative testing oftrace drugsinsewage.
◆Fast qualitative testing oftrace residuesin drug contact media.
---
Easy Pre-treatment
Ultrasonic extraction of hair sample takes only 5 minutes, other samples can be directly added dropwise or diluted with extract.
Fast Detection
The drug content in the sample is detected within 5 minutes after sampling. It can directly give the negative or positive interpretation results.
High Precision
Adopts advanced technology, the minimum detection limit of methamphetamine, morphine and ketamine is 0.001ng/mg, and only 5mg of hair samples (about 10*5cm hairs) are needed for testing.
Strong Compatibility
Compatible with the fast qualitative drug detection to samples including hair, blood, dried blood spots, sweat, saliva, urine and other biological samples, and can also quickly quantify the concentration of sewage drugs and rapidly detect the trace residues in drug contact media.
Complete Set of Supporting Equipment
Weiyun provides urine, saliva and other colloidal gold quick test paper, quick test boxes, Raman spectroscopy equipment, drug fast-testing vehicles and a series of reagents and equipment needed for anti-drug work.
Portability
The host computer of SuperTest 1000 weighs less than 2.5kg.
---
Testing Parameters

Detection Items

Quantitative Detection Limit

(ng/mg)

InspectionSpecification

Methamphetamine

0.2

Regulations of the Ministry of Public Security on "Specification for Testing Hair Samples of Drug-Related Personnel":

Article 9 The content threshold of O6-monoacetylmorphine, morphine, methamphetamine, amphetamine,

3,4-methylenedioxy amphetamine (MDA),

3,4-methylenedioxymethamphetamine (MDMA), ketamine, norketamine and methcathinone in hair samples is 0.2 ng/mg; the detection content threshold of cocaine is 0.5 ng/mg; the detection content threshold of benzoylecgonine and tetrahydrocannabinol is 0.05 ng/mg. If the actual detected content value is above the threshold, the test result is deemed to be positive.

Morphine

0.2

Ketamine

0.2
---
Product Configuration
| | | | |
| --- | --- | --- | --- |
| No. | Name | Quantity | Unit |
| 1 | Dry Immunofluorescence Analyzer | 1 | Set |
| 2 | Power Adapter | 1 | Set |
| 3 | Ultrasonic Cleaning Machine | 1 | Set |
| 4 | Detection Reagents | 3 | Box |
---
Please feel free to contact us via info@weiyunbio.com